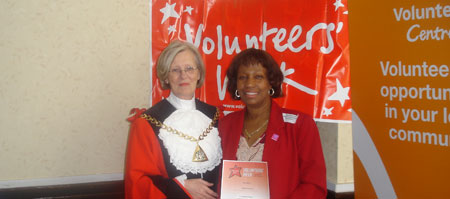 Maude Estwick, 64, has been volunteering with LJAG for several years. A woman of many talents, and transferable skills, Maude has now retired from her work as a nurse, human resources officer and fashion designing/dress making. She now devotes her time to community volunteering and being a governor of the local primary school.
Maude met Anthea, LJAG's co-chair at a Greenspace meeting in City Hall. Since then she has offered lots of help with events, sat on the LJAG steering group and has recently become one of our directors. She has a wealth of experience of working with local community groups as she helped to set up the Milkwood Estate Tenants/Residents Association and the PopUlar Youth Association over fifteen years ago.
Her achievements there are impressive. Upon becoming Chair, she and her committee raised £500K for Milkwood Community Park and transformed it completely from a derelict, dumping ground for old cars and junk into what it is today – a peaceful, tranquil community place for families to enjoy the outdoors and children to play. Maude is also concerned about young people – and has worked hard to involve them in her projects and recently she was a London Ambassador for the Olympics.
"I like being involved with LJAG. It keeps me busy and I get a lot of satisfaction out of contributing my skills and giving something back to the local community. If it was up to me there would be a lot I'd change about the area but most importantly, I'd really like to see it becoming the centre of the community. We are not the edge of Herne Hill!"