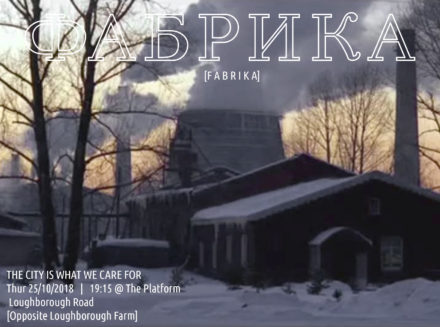 The City Is What We Care For: FABRIKA
Thur 25/10/2018
1915 @ The Platform
From 90's West [Last months film slacker] to 00's East;
The fifth movie in the "The City Is What We Care For" series:
Ukranian film Fabrika directed by Sergei Loznista.
The highlight of the series,
Filmed in 2004, the film is a hard hitting true story about the lives of people working in an industrial area of Russia.
Everything as usual will be donations based to raise enough for another night.
Proper food will be available.
BYOB.
As requested here is a summary of previous films shown in the series:
06 June    Chunking Express
07 July     Bande A Parte
08 Aug     Pom Poko
09 Sept    Slacker
10 Oct      Fabrika
11 Nov      Me, Earl And The Dying Girl
See you all soon,