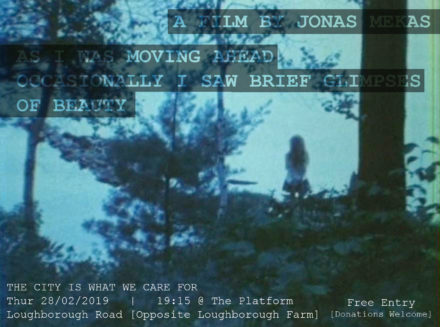 Film Night
The city is what we care for: 
As I was moving ahead occasionally I saw brief glimpses of beauty

Thursday 28th February 2019

Doors open: 1800 . Start time: 2000
Entry is free; donations welcome to continue the series.
Snacks and nibbles provided
BYOB
@ The Platform SW9, 2 Ridgeway Road SW9 7AH [Opposite Loughborough Farm]
The first film of the year in our The city is what we care for series will be by avant garde poet / filmer Jonas Mekas.
An autobiographical film
The everyday
Set in and around New York
Following the protaganist's movement through time
Watching his life or maybe his memories
we reminisce together.
My dear viewers,
I guess you have come to another realisation by now,
and that is, that I am not really a filmmaker.
I do not make films…
I just film
I am obsessed with filming,
I am really a filmer
And it's me and my Bolex
I go through this life with my Bolex
and I have to film what I see,
what is happening right there.
What an ecstasy just to film,
why do I have to make films when I can just film
When I can just film whatever is happening there,
in front of me,
and now,
my friends, whatever I see.
I may not be even filming the real life
I may be just filming my memories
I don't care
I just have to film
~Jonas Mekas