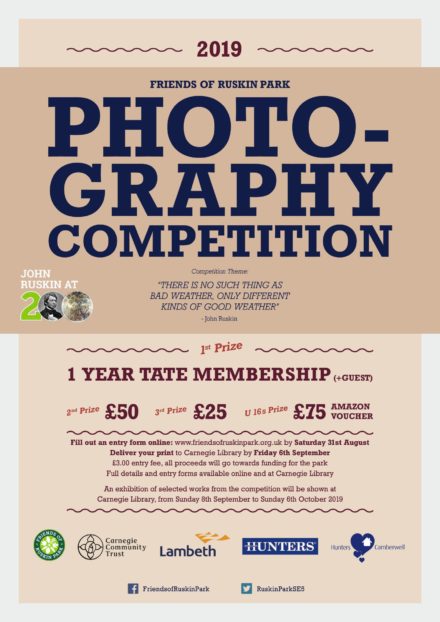 Theme
The theme for the competition this year is: "There is no such thing as bad weather, only different kinds of good weather" – John Ruskin
Photographers and artists are challenged to use photography and printing in any way they see fit to make images that have originated in Ruskin Park. No previous experience necessary – everybody is welcome to take part!
Entry details
To enter the competition you must:
Complete an online entry form on the Friends of Ruskin Park website by 31 August. Please ensure you complete a separate form for each image. You can enter a maximum of three photographs.
Email a copy of your photographic entry to competition@friendsofruskin.org.uk – we will use this for our records and to promote the event
Deliver your card mounted photographs to Carnegie Library between 31 August and 6 September. It must be accompanied by a printed entry form.
Closing date for entry: 6 September at 5pm.
Entry fee: £3 per entry, payable when you deliver your image.
Please read the terms and condition before entering.
Prizes
Entries will be judged by a panel of arts professionals, with an exhibition of entries at Carnegie Library
All ages
1st prize = One Year's Membership to Tate Galleries ( 1 + 1 guest) ,
2nd prize = £50
3rd prize = £25.
Under 16s
Amazon vouchers to the value of £75.
Exhibition
All works will be exhibited in Carnegie Library, from 8 September to 6 October 2019, and available for purchase if listed for sale.
Find out more
Photo below: "Reflections at sunset" by 2018 winner, Joe Salem. The theme that year was 'A Celebration of Ruskin Park'.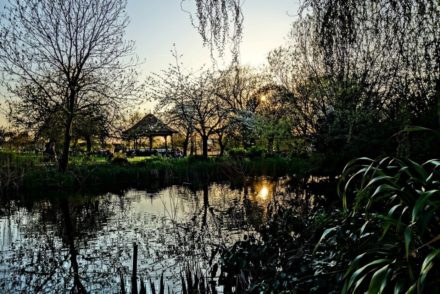 This is a project led by Friends of Ruskin Park volunteers in partnership with Hunters with an exhibition of entries at Carnegie Library. It is part of John Ruskin at 200, a programme of events supported by Arts Council England. Full details are above, or click here to make your entry.