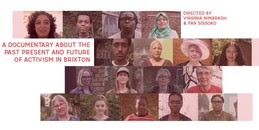 We The People – Film Screening 
Tuesday 26 November, 6.15pm.
Brixton Library
A short film by Virginia Nimarkoh & Fan Sissoko. Connecting young activists with seasoned activists, we tell a story of Brixton activism under a backdrop of gentrification and Brexit. Made in partnership with The Advocacy Academy.
Featuring Brixton Housing Co-op, Cressingham Gardens Estate, Lambeth Gay Pride, Loughborough Farm, Race Today Collective, Remembering Olive Collective, The Advocacy Academy and much more.
Original soundtrack from Dubmorphology. Commissioned by Museum of London.